---
About Sarah
27. 2. 2007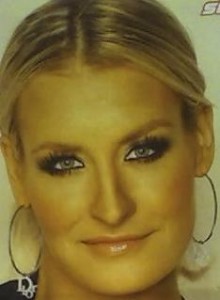 Jméno: Sarah Gray (Connor je umělecké jméno)
Datum narození: 13.6. 1980
Místo narození: Delmenhorst, Německo
Hvězdné znamení: Blíženci
Stav: vdaná za Marka Terenziho
Děti: syn Tyler, dcera Summer
Rodiče: Soraya, Michael
Sourozenci: Anna-Maria, Marisa, Lulu, Valentina, Robin
Domácí zvíře: kocourek Mino
Výška: 178cm
Barva očí: zelená
Barva vlasů: blond
Velikost bot: 40
Váha: 60 kg
Hobby: zpívání, kino, jízda na koni, tanec
Tetování: záda- osm čínských znaků (mír, pravda, Bůh, láska, rodina, hudba, slunce, energie), ruka- iniciáli svého muže (MET)
Sarah Connor má čtyři sestry a jednoho bratra. Už když byla malá si hrála na zpěvačku. Už od 16ti let posílala své nahrávky do různých vydavatelských společností, ale až ve 20ti letech se jí povedlo zaujmout vydavatelskou společnost Sonymusic, která když slyšela její nahrávky s ní okamžitě podepsali nahrávací smlouvu. A tak Sarah nazpívala pilotní píseň Let´s Get Back To Bed- Boy ve spolupráci s raperem TQ. Tato píseň se stala okamžitě hitem a trhala rekordy ve všech hitparádách. Sarah se stala první bílou soulovou zpěvačkou. Tím to ale nekončilo. Sarah vydává své debutové album s názvem Green Eyed Soul, které se stalo třikrát zlatým za 450 000 prodaných nosičů. V roce 2002 následovaly další mega úspěšné hity French Kissing a From Sarah With Love. Singlu From Sarah With Love se dodnes jen v Německu prodalo přes 75 000 nosičů. Singl se stal v Německu trojnásobně zlatým a dalších úspěchů dosáhl v Rakousku a ve Švýcarsku. Pomocí singlu From Sarah With Love se Sarah rychle proslavila i ve zbytku Evropy. V březnu roku 2002 byla Sarah nominovaná ve třech kategoriích na prestižní cenu Echo. Cenu si však odnesla jen jednu v kategorii Zpěvačka- Rock/Pop.
Téhož roku na podzim vydává Sarah další singl ve spolupráci s raperem Wyclefem Jeanem. Nazpívali tak hit One Nite Stand, který pokračoval v úspěších předchozích singlů. Netrvalo dlouho a Sarah vydala druhé studiové album Unbelievable. Další singl z nového alba se stala balada Skin On Skin, která se záhy dočkala stejného úspěchu jako From Sarah With Love. Následovalo spousta úspěchů a Sarah dostávala jednu cenu za druhou. Stala se nejoblibenější zpěvačkou v Německu a vždy byla nominována do více kategorií. Sarah prožívala svůj sen z dětství, který se stal skutečností. Poté Sarah natočila další hity- He´s Unbelievable a Bounce- který Saru proslavil v USA. Ve svém soukromém životě se Sarah zamilovala do zpěváka Marka Terenziho se kterým pak čekala syna Tylera. Ještě předtím Sarah stihla vydat singl Music Is The Key. Poté Sarah natočila v pořadí třetí studiové album Key To My Soul. Singl Music Is The Key proslavil Saru po celé Evropě.
V lednu roku 2004 Sarah porodila zdravého syna Tylera. Poté Sarah s Markem nazpívali novou verzi hitu Just One Last Dance. V létě téhož roku se Sarah vdává. Na podzim Sarah vydává svůj nový singl Living To Love You, kterou si každý okamžitě zamiloval.
V roce 2005 Sarah vydala album Naughty But Nice, které se stalo v Německu za jediný den zlatým. A Sarah vydává další singl From Zero To Hero k filmu Roboti, ve kterém Sarah namluvila jednu robotí slečnu. Na léto Sarah připravila se svým manželem Markem realitishow s názvem Sarah & Marc In Love, která se stala velice oblíbenou. Konec roku se nese ve stylu Vánoc a Sarah vydává své vánoční album s názvem Christmas In My Heart.
V roce 2006 se Saře narodila holčička Summer. Šest dní po porodu lékaři zjistili, že se Summer narodila se srdeční vadou. Summer musela na operaci. Nyní je už zdravá. V zimě Sarah vydala singl The Best Side of Life a vánoční DVD Christmas In My Heart.
Nyní Sarah pracuje na novém albu, které by mělo vyjít na jaře.
Zajímavosti o Sarah:
První auto: černý Fiat Punto
První polibek: ve 14ti letech
První výstup: se sborem na konzertě s Michaelem Jacksonem
První parfém: LULU od Cacharel
První práce: v domě módy Oili
Nejoblíbenější film: Hříšný tanec
Nejoblíbenější seriál: Ally McBeal
Nejoblíbenější CD: Ecleftic- Wyclef Jean
Neoblíbenější zpěvák/zpěvačka: Aretha Franklin, Michael Jackson, Missy Elliot
Nejoblíbenější pití: voda
Nejoblíbenější zmrzlina: citronová
Nejoblíbenější sladkost: čokoláda
Nejoblíbenější parfém: Victoria´s Secret- Breathless
Nejoblíbenější kniha: Pope Joan
Nejoblíbenější herec: Robert De Niro
Nejoblíbenější auto: Porche